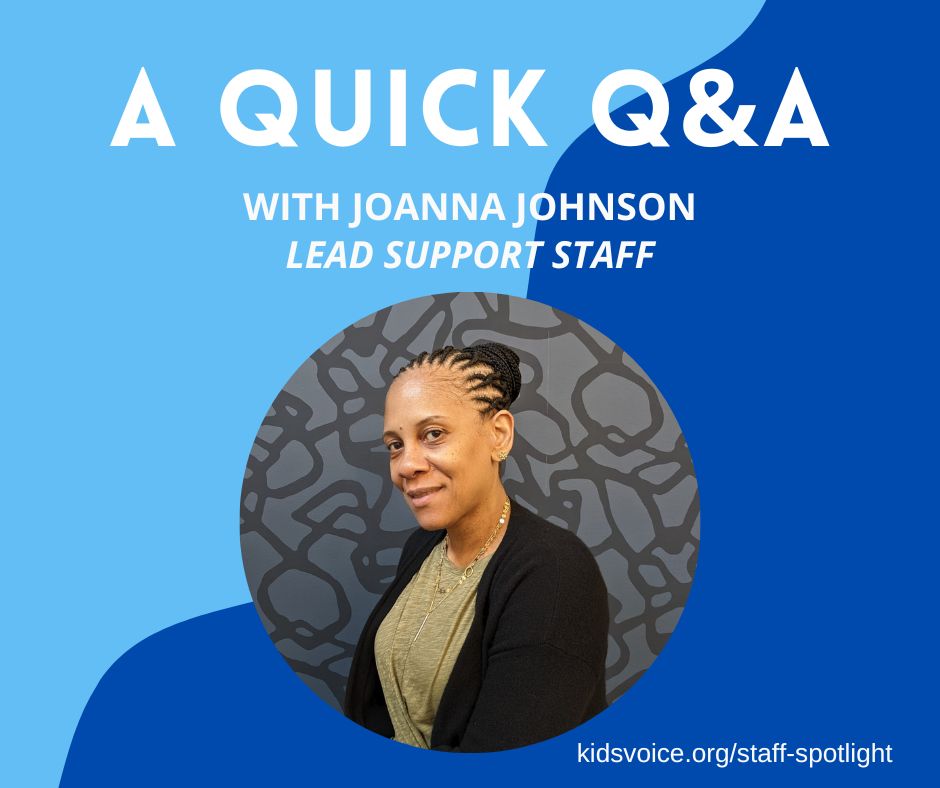 Joanna Johnson, the second longest-serving employee at KidsVoice, is celebrating her 23rd anniversary on Oct. 18, 2022! Joanna is the Lead Regional Support Staff, acting as mentor to our team of administrative professionals. When she's not at work, Joanna loves spending time with her grandchildren and soaking up the sun at the beach.
Joanna Johnson, Lead Support Staff. Interview posted October 2022.
Congratulations on your 23rd anniversary here at KidsVoice!
I feel honored to be in the position I've been in for so long. I appreciate it. Doing something every day like you know the back of your hand is nice. I don't know all, but I can try to get an answer to anything. Even now, there may be something that comes up that I've never encountered!
What about KidsVoice's work resonates with you?
What resonates with me is the quality of [KidsVoice's] services. They can really help these kids. I think we've got it right in this office.
The things that come across my desk really affect me. Some of the cases are complex and we don't just go with the standard solutions. Other places, they probably wouldn't get these services. We're just trying to help these kids and I really appreciate that.
What was KidsVoice like in 1999?
When I started, it was still Legal Aid for Children. We were in a very tiny office. It was across from a high school football field. The high school is an apartment building now. We had ten attorneys and two support staff for 5,000 clients. It's fast-paced now, but you were literally hands-on everything then. Attorneys would deal with everything. We didn't have social workers at the time. And we had lots of stuff. Lots of papers. Lots of files. We don't have too many papers in the office now, but when we moved from South Side to downtown, we had a lot of stuff to move.
When a case is assigned to KidsVoice by the Allegheny County juvenile court system, what is your role?
KidsVoice's teams are split into regions, just like Children, Youth and Families. We [the support staff] open the cases in our system to give to the regional supervisors, so they can assign the cases to the attorneys and CAS's (Child Advocacy Specialists). So, we do a lot of data entry. I also share the court dockets and upload all the documents for each date so the CAS's and attorneys have what they need. [After,] I upload the court orders.
Thank you for taking time to answer my questions! Final question: what's your favorite season?
Spring. Now that I have grandkids and they're pretty much all spring babies, I'll say spring. I have three grandbabies and I love them to death. I also love the flowers blossoming and I like being able to wear a sweater, the comfortable weather.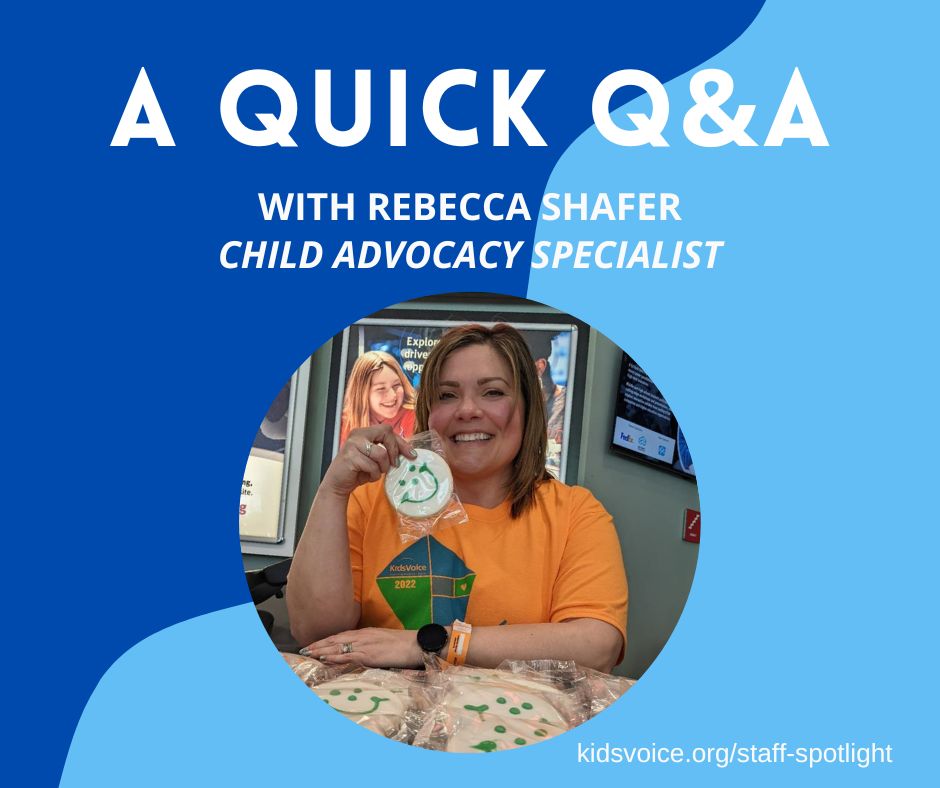 Rebecca Shafer joined KidsVoice as a Child Advocacy Specialist—KidsVoice's social service professionals—in 2003. She is also the Independent Living Project Coordinator, which plans the semi-annual Transition Age Youth Resource Fairs; Human Services Training Coordinator, and leads the organization's innovative Two-Generation Program. She says her favorite part of KidsVoice is its collaborative nature and her colleagues.
Rebecca Shafer, Child Advocacy Specialist. Interview posted August 2022.
As KidsVoice "expanded" its work to include support for youth through age 24 who have aged out of the foster care system, your work also began to reflect this. Can you tell me about what you do?
"[As part of the Expansion Team,] I field a lot of calls, emails and texts from our older youth about housing, legal issues, and money issues. I advocate for youth with housing authorities, deliver emergency supplies, and try to link youth to the services that can help. I also attend meetings and trainings and do site visits to learn about new programs in the county.
"The really cool part … is that I have the support of some pretty fantastic attorneys that are eager to collaborate and work through our clients' issues. For example, when we discover a summary criminal charge or an eviction, I can talk to a team member and arrange for representation, in-house."
You recently co-authored an article about KidsVoice's two-generation program for The American Bar Association's Spring 2022 Children's Rights Litigation newsletter. Why are "two-gen" clients especially vulnerable?
"The two-gen program works with KidsVoice clients that are expecting or parenting children of their own. They are young adults who aged out of the system with few supports. Our focus is to provide connections to services in their communities in an attempt to keep their children from being involved in the juvenile court system.
"It's not unusual for a new two-gen client to come to us with a specific urgent need like diapers or formula. We help them to meet that initial need, but upon further conversations we try to identify other issues that this young family may be facing.
Some of our young adults have previous legal matters that are barriers to employment. Some of their children have developmental issues and our clients are not always aware of the supports (developmental and financial) available to them and their children. They need help navigating other systems like housing and public benefits.
"These issues are problems that young adults who grow up with limited resources and trauma often face."
What is something you enjoy about working with older youth?
"I love working with transition age youth. I actually enjoy working with youth of all ages but for older youth our service is voluntary, and they really appreciate us. Many of the youth I work with have had a really rough upbringing, and they often have no one to help them when a problem arises. We're here to be that help, and it's always so rewarding when they really open up to me about what's really going on and I start to work with the team to address those issues."
At the end of a long week, what is your go-to for self-care?
"The work that we do can be emotionally taxing, so sometimes when I have some free time, I like to do the most mindless thing possible—watch reality TV!"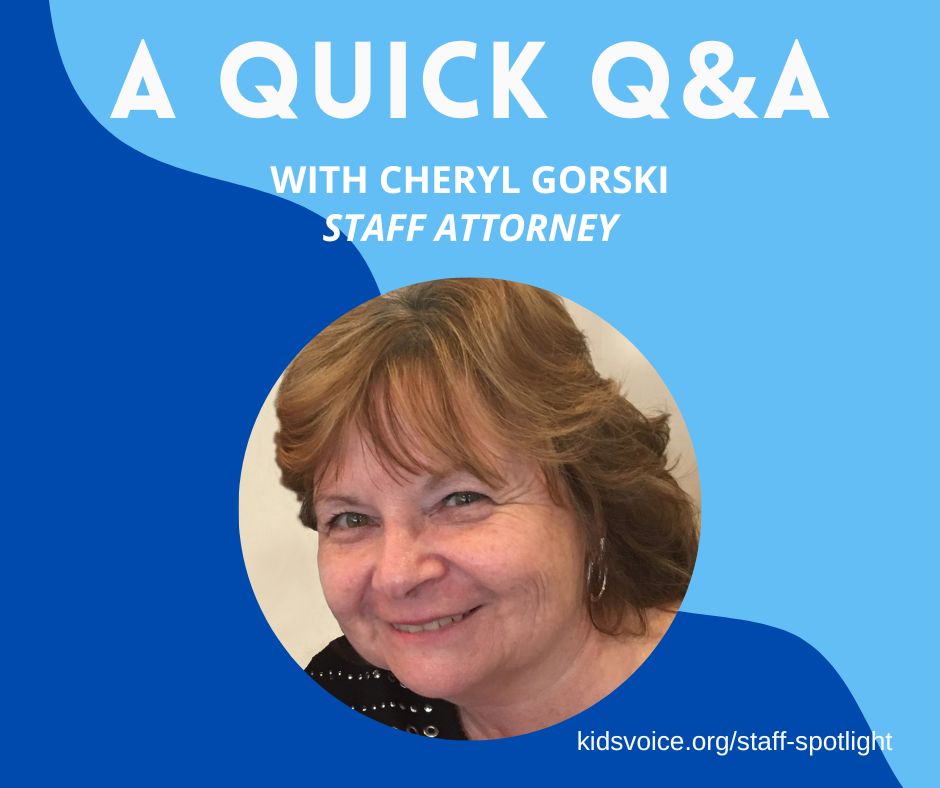 Cheryl Gorski celebrated her 20th anniversary at KidsVoice this past February. A former Navy JAGC lawyer, when Cheryl isn't representing KidsVoice clients in court, she enjoys reading and takes pride in her garden. She resides in Allegheny County with her husband, a chemical engineer. Her children have each followed in her footsteps: her daughter is an attorney and her son works with children.
Cheryl Gorski, Staff Attorney. Interview posted June 2022.
You have been with KidsVoice for 20 years! How have things changed since you started?
"They were just starting this new multidisciplinary model of assigning attorneys and child advocacy specialists to each case when I was hired. … I have seen KidsVoice really grow. I remember when we all got together to talk about what our mission statement should be. We've expanded into so many different areas now. We have an education team now. We have expansion now [a team that works specifically with older youth transitioning out of the foster care system]. … This is better for the kids."
Is there anything in particular that has kept you at KidsVoice for so long?
"People ask me 'why didn't you become a judge?' or 'why didn't you do this or that?' And I say, 'because this is what I wanted to do.' I honestly consider this a dream job. It's working with kids all the time and then representing them in court. There are so many kids. I have cards from them on the wall. I have foster parents who call me and they keep in touch with me and give me updates. I was just invited to a high school graduation!"
What does your typical work week look like?
"I typically have court two days a week. … I have case team meetings with the Child Advocacy Specialists assigned to each case. I have paperwork before each hearing and then I do any follow-up after the hearing. Then there's coordinating child visits to make sure I get to know every client. I'm constantly talking to foster parents, case workers. There's inter-agency meetings, school meetings. Multitasking is important and also being able to prioritize so you can get everything done in time."
In your free time, you have a lot of hobbies. Thinking about summer and vacations, do you have a favorite travel destination?
"The destination that had the biggest impact on me was in high school when I went to Europe. I stayed in a school for four weeks. We studied French there and learned to dance and cook French cuisine and it was amazing. The first time I saw the ocean was in France!"
Stay Informed
Never miss an update! Sign up for the KidsVoice newsletter to learn about upcoming events, announcements, donor and volunteer opportunities, and current initiatives.