A specially designed model for transition age youth 14-24.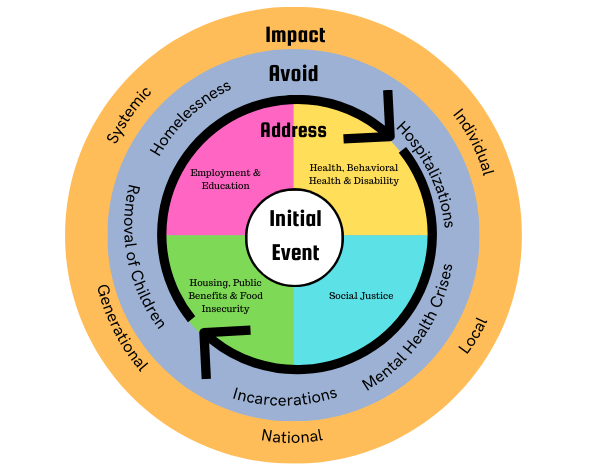 This logic model was created to illustrate KidsVoice's approach to addressing the needs of transition age youth to ensure a smooth, stable shift from the care system to adulthood.
Older youth services may begin when a youth self-refers themselves for assistance with an initial event, through KidsVoice outreach, or a third-party referral, such as from the Department of Human Services or a service provider.
Initial Events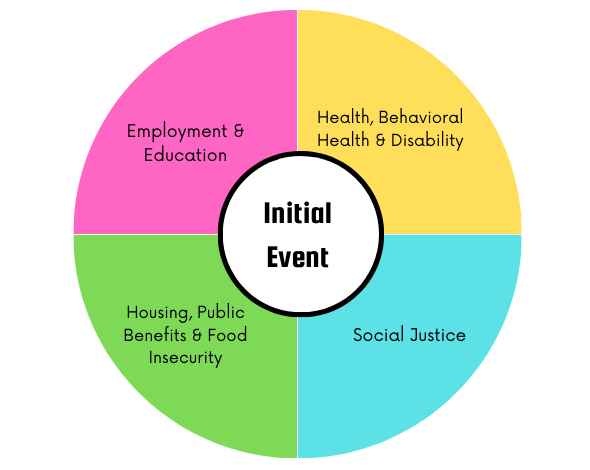 These initial events generally fall into one of four categories:
Health, Behavioral Health & Disability

Social Justice

Housing, Public Benefits & Food Insecurity

Employment & Education
While addressing the initial event, KidsVoice also assesses and addresses the youth's needs in all four areas.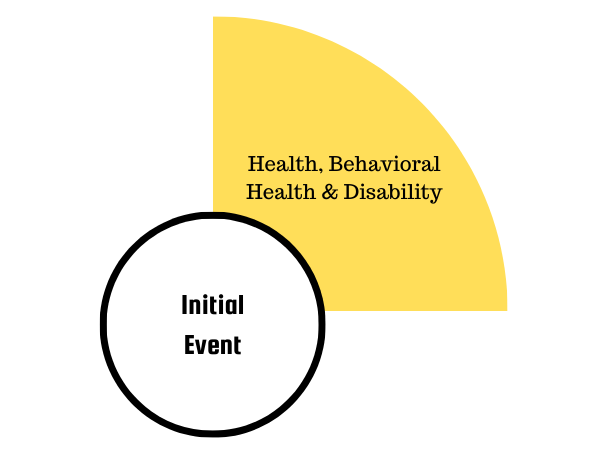 Health, Behavioral Health & Disability
Medical coverage & insurance
Mental health treatment
Medical-legal partnership
Disability advocacy
Intellectual disability & autism waivers
Adult guardianships
Two-generation advocacy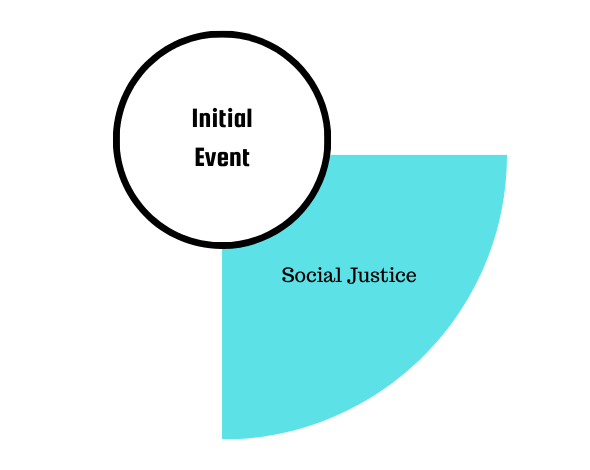 Social Justice
MDJ summary offense representation
Juvenile record expungement
Credit repair
Driver's license advocacy
Two-generation advocacy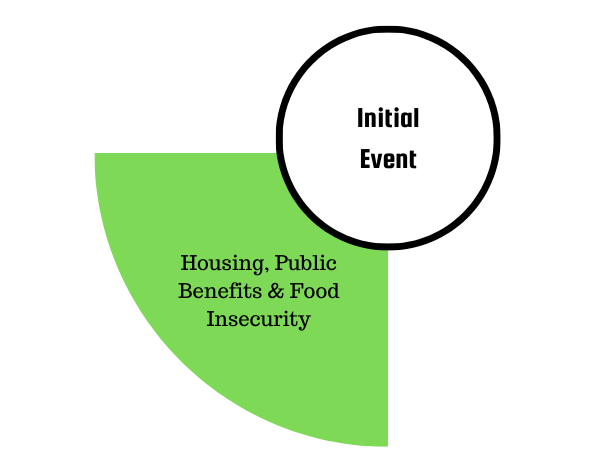 Housing, Public Benefits & Food Insecurity
Housing advocacy
Social Security & public benefits
Connecting clients to food
Connecting clients to community services
Two-generation advocacy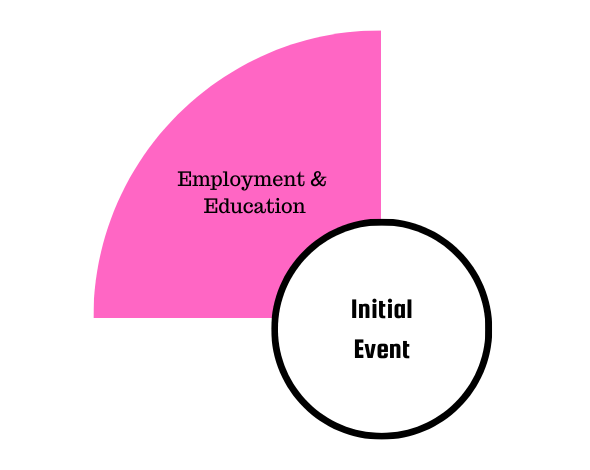 Employment & Education
Education advocacy
Special education advocacy
Education intake assessment
Workforce development
Two-generation advocacy
Preventing Setbacks: An Applied Model
By addressing all four problem areas above with our holistic assessment, we can help clients avoid the most common setbacks faced by former dependent youth not receiving KidsVoice services: homelessness, 4+ ER visits per year, mental health hospitalizations, removal of children, and incarcerations.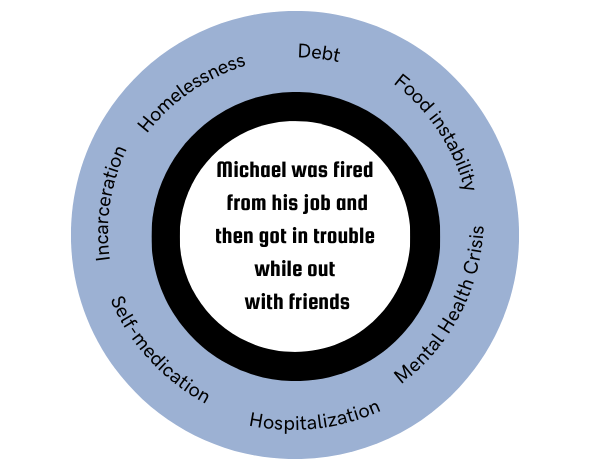 Scenario #1
Michael, a 21-year-old former client with a history of significant trauma, received a disorderly conduct charge while out with friends. He was upset at the time over the loss of his job, from which he was fired due to too many call-outs because of untreated depression. Some of the setbacks he could face without intervention include debt, homelessness, a mental health crisis, self-medication, incarceration or hospitalizations.
Examples of Setbacks Avoided
Service: Bill assistance, social security, SNAP, public benefits, etc.
Avoids: Debt and collections; loss of housing; food instability
Service: MDJ representation
Avoids: Incarceration; failed background checks for jobs and housing
Service: Adult mental health services, insurance
Avoids: Self-medication; mental health crisis; incarceration; hospitalizations
Service: Job assistance
Avoids: Loss of housing; food instability
If a child is present, all of the above setbacks could lead to the removal of the child.
Applying our Model to Two-Generation Advocacy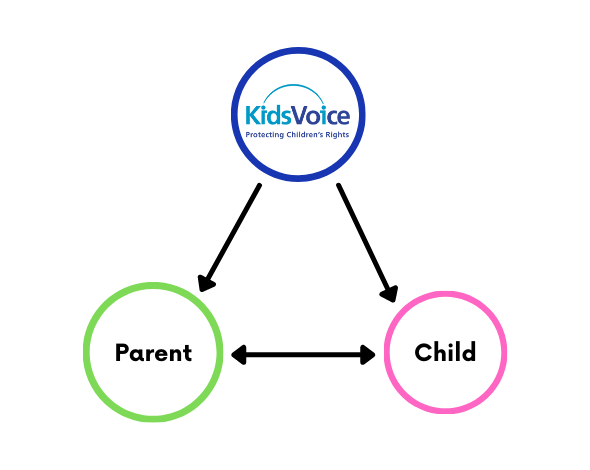 Scenario #2
Samantha, a 23-year-old former client, has received a final warning from her landlord for overdue rent. KidsVoice's holistic assessment finds that she is a single parent with a 3-year-old with developmental delays. Samantha works 25 hours per week at $8 an hour and cannot afford child care. Her job prospects are limited due to a juvenile record, but she would like to go into a trade program.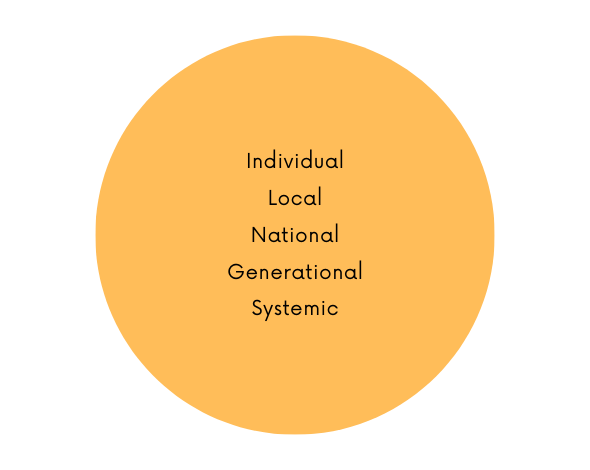 Impact Outlook Through 2026
Present: Local application to other youth and adults
2024-2025: National replication
2024-2025: Universal representation in MDJ cases
2025-2026: Community justice alternative to MDJ summary offenses
Stay Informed
Never miss an update! Sign up for the KidsVoice newsletter to learn about upcoming events, announcements, donor and volunteer opportunities, and current initiatives.