William's* home growing up was always filled with music. His parents played multiple instruments and William inherited their skill and passion for playing music, too. In particular, he loved playing the violin.
For his 14th birthday, William's parents bought him a violin of his own, establishing a payment plan for the expensive instrument. Unfortunately, his parents died suddenly in an accident before the instrument was paid off.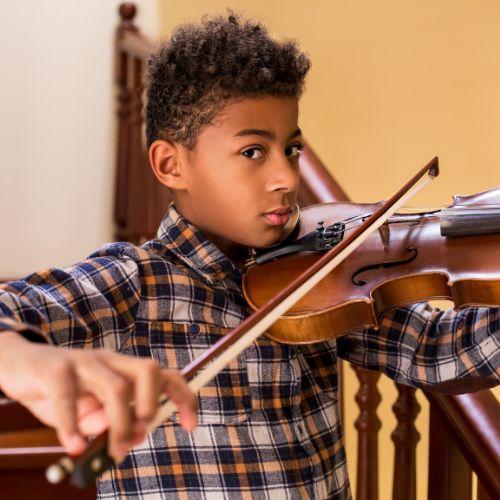 William went to live for a time with family members, but the home was not a good fit. His relatives petitioned for his removal into foster care and would not help him make payments on his beloved instrument. The violin was repossessed.
KidsVoice established three initial goals to ensure William's safety and well-being: Advocate for a new, appropriate placement where his creativity and skills would continue to be encouraged, connect him with therapy to help address his trauma and grief, and advocate in-school for learning and therapeutic supports to encourage continued success there during this stressful transition.
Recognizing that William not only lost his parents, but that he had also lost the connection to them his violin had represented, KidsVoice also sought a way to help bring music back to his life.
We nominated William for a new violin through a program that provides musical instruments to children in need. Our application was successful.
William was ecstatic when he found out he was getting a new violin. While it cannot replace the connection to his parents that the one he lost represented, this violin is his alone and can never be taken away from him.
William has since flourished in his school's orchestra and was a featured soloist in their last concert. Recently, William told his case team that he wants to be a music teacher when he is older so that he can help other kids like him find joy in music.
Whatever path William chooses, KidsVoice will be there to make sure he has the tools—and instruments—he needs to succeed.
*Names and details changed for confidentiality. Included images are stock photos and do not depict actual clients.
Stay Informed
Never miss an update! Sign up for the KidsVoice newsletter to learn about upcoming events, announcements, donor and volunteer opportunities, and current initiatives.