The house that Jaylen* and his mom lived in was foreclosed on when he was fifteen. His mother's severe mental health issues had worsened to the point that she could barely care for herself, let alone Jaylen. They faced homelessness. After years of struggling with abuse and a lack of food, clothes, and basic toiletries, Jaylen was placed in foster care.
Jaylen is on the autism spectrum, although he was not diagnosed at the time. This contributed to his moving between several placements. None was a good fit.
Despite the trauma he endured and the lack of stability in his foster care placements, Jaylen felt driven to achieve something for himself. He applied for and received a Fund for Advancement of Minorities Through Education (FAME) scholarship that allowed him to attend a rigorous private high school. It was a difficult adjustment: Jaylen was far behind his peers academically, and since it was not a public school, he had no access to a free lunch, and no Individualized Education Plan (IEP) to support his special education needs.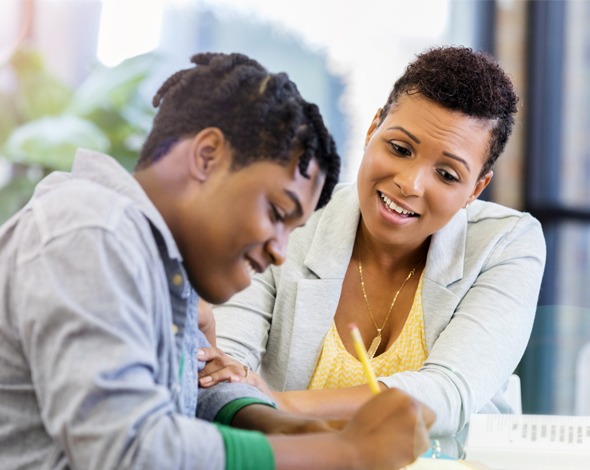 KidsVoice was there to support Jaylen and help him find a stable home, ultimately with his high school basketball coach's family. They attended therapy with Jaylen to help him move beyond the immense difficulties of his childhood. KidsVoice advocated successfully for his foster family to be the legal decision makers regarding Jaylen's educational and medical needs. Given his diagnosed autism and ADHD, KidsVoice also advocated for Jaylen's right to educational accommodations—including additional time when taking his SATs. KidsVoice worked to ensure that Jaylen could take advantage of all the opportunities he earned. For example, we helped him compile all of the necessary documentation and get a court order so that he could travel abroad as a foster youth as part of a school-funded program.
By the time he graduated from high school, Jaylen had increased his GPA from below 2.5 to a 4.0. He was also elected class president. Like his peers at school, Jaylen applied to attend college. KidsVoice advocated on his behalf to ensure that schools understood his financial situation—that he had no income and was a ward of the state. Since foster youth rarely apply to four-year colleges, many institutions at first had difficulty processing his financial aid requests. In the end, Jaylen received a full scholarship to attend his top university choice.
When Jaylen started his first semester at college, KidsVoice helped make sure he had money for books and living expenses, a caring home to return to during school breaks, and a bright future ahead.
Stay Informed
Never miss an update! Sign up for the KidsVoice newsletter to learn about upcoming events, announcements, donor and volunteer opportunities, and current initiatives.